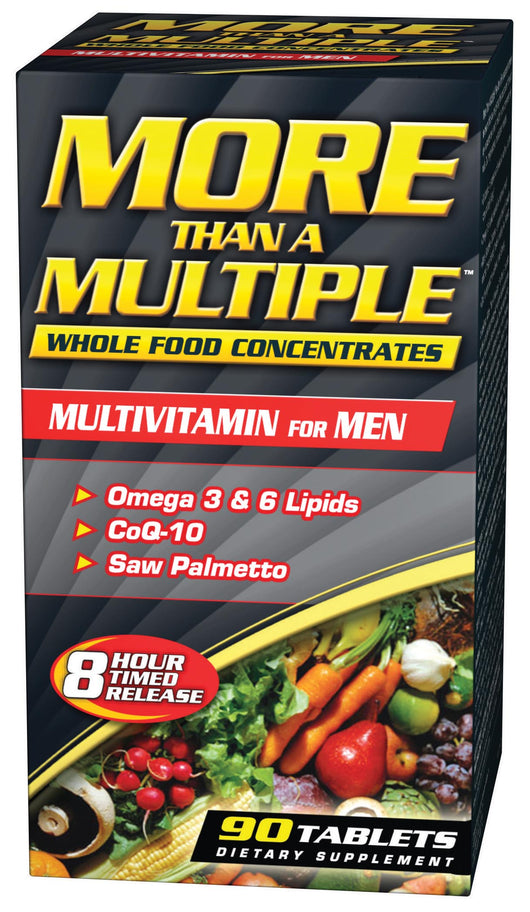 More Than A Multiple For Men
Regular price $21.99 Sale
---
Limited Items Selling Fast
poup with stuff in it
close
---
More Than A Multiple For Men
More Than A Multiple whole food concentrates for men. Omega 3 & 6 Lipids, CoQ10, and Saw Palmetto. Nature's energy. 90 multi-action duotabs.
Men's More Than A Multiple is a synergistic blend of vitamins, minerals, enzyme and vitamin co-factors with super antioxidants and active phyto nutrients. This formula is reinforced with lutein, lycopene and esterfied C. More Than A Multiple For Men is also specially formulated with key nutrients for a man's health, with energy-rich whole food concentrates plus other nutrients for all day nutritional support, including:
- Folic Acid, B-6 & B-12 to promote heart health.
- Vitamins A, C, D, & E to support healthy immune system.
- Zinc, which promotes wellness in key areas of male reproductive health, plus ginseng.
- Men's BioActive Complex, specially designed with key ingredients, including Saw Palmetto.
- Amino acids, which are the building blocks of protein.
- Goes beyond most other multivitamin supplements by providing a vitamin co-factor complex to supply bioactive assistance for vitamins and minerals.
Supplement Facts
Serving Size: 3 Duotabs
Servings per Container: 30
Nutrient Amount %DV
Vitamin A (as Beta Carotene and Alpha Carotene) 10,000 IU 200%
Vitamin C 500 mg 833%
(as Ascorbic Acid, Esterfied Ascorbate and Ascorbyl Palmitate)
Vitamin D (as Cholecalciferol) 400 IU 100%
Vitamin E 200 IU 667%
(as d-Alpha Tocopheryl Acid Succinate and Isomer E)
Thiamin (as Vitamin B-1) 50 mg 3,333%
(as Thiamin Mononitrate and Thiamin Cocarboxylase)
Riboflavin (as Vitamin B-2) 50 mg 2,941%
(as Riboflavin 5' Phosphate)
Niacin (as Niacinamide and Inositol Hexaniacinate) 50 mg 250%
Vitamin B-6 (as Pyroxodine Hydrochloride) 50 mg 2,500%
Folic Acid 400 mcg 100%
Vitamin B-12 (as Cyanocobalamin) 50 mcg 833%
Biotin (as d-Biotin) 400 mcg 133%
Pantothenic Acid (as d-Calcium Pantothenate) 50 mg 500%
Calcium 500 mg 50%
(as Calcium Carbonate, Calcium Citrate, Calcium Fumarate, Calcium Ketoglutarate, Calcium Gluconate, Calcium Aspartate, Calcium Ascorbate, Calcium Histidinate, Calcium Malate and Calcium Succinate)
Iodine (from Kelp) 75 mcg 50%
Magnesium 250 mg 63%
(as Magnesium Oxide, Magnesium Citrate, Magnesium Fumarate, Magnesium Ketoglutarate, Magnesium Gluconate, Magnesium Aspartate, Magnesium Ascorbate, Magnesium Histidinate, Magnesium Malate, and Magnesium Succinate)
Zinc 25 mg 167%
(as Zinc Citrate, Zinc Fumarate, Zinc Picolinate, Zinc Ketoglutarate, Zinc Monomethenomine, Zinc Gluconate, Zinc Aspartate, Zinc Ascorbate, Zinc Histidinate, Zinc Malate, and Zinc Succinate)
Selenium (as Selenomethionine) 50 mcg 71%
Copper (as Copper Gluconate) 1 mg 50%
Manganese 5 mg 250%
(as Manganese Gluconate, Manganese Amino Acid Chelate, Manganese Citrate, Manganese Aspartate, Manganese Ascorbate, Manganese Histidinate, and Manganese Malate)
Chromium (as Chromium Picolinate) 50 mcg 42%
Potassium 49.5 mg 1%
(as Potassium Citrate, Potassium Ketoglutarate, Potassium Fumarate, Potassium Gluconate, Potassium Aspartate, Potassium Ascorbate, Potassium Histidinate, Potassium Malate, and Potassium Succinate
________________________________________________________
Boron Complex 1 mg
as Boron Aspartate, Boron Citrate, and Boron Ascorbate
Pancreatin 8.25 mg
Methionine 18.75 mg
Inositol 37.5 mg
PABA (Para-Aminobenzoic Acid) 37.5 mg
Choline (as Choline Bitartrate) 37.5 mg
Rutin 25 mg
Citrus Bioflavonoids (Citrus limon) (fruit) 150 mg
Hesperidin (Citrus limon) (fruit) 25 mg
Betaine Hydrochloride 25 mg
Bromelain 8.25 mg
Papain 8.25 mg
Eleuthero Siberian Root 25 mg
(Eleutherococcus senticosus) (root)
N-Acetyl-Cysteine 15 mg
L-Glutamine 10 mg
Taurine 5 mg
Acidophilus (Lactobacillus, Bulgaricus, and Bifidus) 12.5 mg
Coenzyme Q-10 3 mg
Bee Pollen 16.5 mg
Spirulina/Chlorella (Chlorophyllins) 30 mg
Bee Propolis 16.5 mg
L-Glutathionine 10 mg
Wheat Grass/Barley Grass (Chlorophyllins) 30 mg
Omega 3 and Omega 6 Lipids 600 mg
Royal Jelly 3 mg
Licorice Extract (Glycyrrhizin) 12.5 mg
(Glycyrrhiza glabra) (root)
Bilberry Extract (Anthocyanins) 12.5 mg
(Vaccinium myrtillus) (fruit)
Pycnogenol (as Proanthocyanidins) 5 mg
Echinacea/Golden Seal (Echinacosides)
(Echinacea angustifolia) (root)/(Hydrastis canadensis) (root)
Garlic Powder (Allium sativum) (bulb) 5 mg
Garlic Complex (Extract, Macerate) (Allium sativum) (bulb) 50 mg
Polyphenol Complex 15 mg
(Red Wine Concentrate, Green Tea Extract)
Vegetable Complex 50 mg
(Broccoli, Celery, Cauliflower, Cabbage, Brussels Sprouts, Yams, Kale, Carrots, Collard Greens, and Spinach)
Citrus Complex 50 mg
(Lemon, Lime, Tangerine, Grapefruit, and Orange)
Shark Complex (Cartilage and Squalene Oil) 30 mg
Mushroom Complex (Reishi, Shiitake, and Maitake) 15 mg
Vitamin Co-Factor Complex 5,000 mcg (5 mg)
(Tocotrienols, (Vitamin E Co-Factor), Pyridoxal 5' Phosphate (Vitamin B-6 Co-Factor), Dibencozide (Vitamin B-12 Co-Factor), Pantethine (Pantothenic Acid Co-Factor)
Carotenoid Complex 1,000 mcg (1 mg)
(Zeaxanthin, Cryptoxanthin, Lutein, Lycopene)
Lycopene (from Tomato) 1,000 mcg (1 mg)
Lutein (Purified from Extracted Marigolds) 1,000 mcg (1 mg)
Lipoic Acid (alpha/R-alpha Lipoic) 1,000 mcg (1 mg)
Tocotrienols (from Rice) 1,000 mcg (1 mg)
Men's Bioactive Complex 100 mg
(Rhodiola (Rhodiola rosea) (root), Saw Palmetto (Serenoa repens) (fruit), Pygeum (Prunus Africana) (bark), Cranberry Juice Extract, Pumpkin Oil (Curubita pepo) (seed) concentrate, Glycine)
OTHER INGREDIENTS: Sorbitol, Gamma Cyclodextrin, Cephalins (Phosphatidyl Ethanolamine and Serine), Xanthan Gum, Inulin, Stearic Acid, Magnesium Stearate, Alfalfa Juice Concentrate, Cellulose.
Directions: For adults, take three (3) Duotabs daily, preferably before meals. Many minerals can affect the absorption of particular medications. Do not take this product within 2 hours of taking medications or follow the advice of your health care provider. If you have never taken bee products, start with a small serving per day and increase gradually in order to assess whether you are allergic. As a reminder, discuss the supplements and medications you take with your health care providers and follow their advice.
Warning: Not for use by pregnant or lactating women. Avoid this product if you have Wilson's disease, any allergies or a history of kidney stones. Consult your doctor before use if you have, or have had, any health condition or if you are taking any medications or remedies including OTC medications, or are planning any medical procedure. Discontinue use and consult your doctor if any adverse reactions occur, such as gastrointestinal discomfort or any allergic reaction. Not intended for use by persons under the age of 18.
Keep out of reach of children. Store in a dry place and avoid excessive heat. Tamper resistant: do not use if seal under cap is broken.
Contains Pancreatin and Shark.
Real time shoppers on site
stock running low.