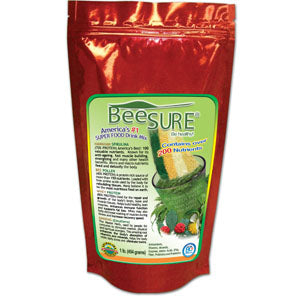 Bee Sure Super Food Drink Mix
Regular price $26.99 Sale
---
Limited Items Selling Fast
poup with stuff in it
close
---
Bee Sure Super Food Drink Mix
Bee Sure. America's #1 Super Food Drink Mix. Delicious Super Nutrient Drink Mix 70% Protein. All Natural ~ One Month Supply.
Bee Sure Drink Mix is the nutrient dense Super Food Mixture specially formulated for those individuals looking for the natural way to supplement their bodies ever changing nutritional needs.
Hawaiian Spirulina (65% protein). This highly bioavailable food contains a full compliment of valuable nutrients and is one of the most sought after, all natural micro and macro nutrient sources available today.
Bee Pollen (35% protein), naturally collected by the bees, honey bee pollen in a highly potent, concentrated form of protein. About half of this amount is in the form of free amino acids which are immediately used by the body for rebuilding and rejuvenation.
Whey Protein Concentrate (82% protein), our source is the green country of New Zealand, a country dedicated to agriculture without the use of pesticides, herbicides or antibiotics. Made from fresh, food grade whey which has been gently cold-processed to ensure retention of excellent nutritional qualities.
Siberian Eleuthero, the master herb, used by men, women and children for nearly five thousand years to stimulate mental, physical and spiritual energies. This naturally cultivated root also aids in the absorption of vitamins and minerals, helps the body to eliminate toxins and resist many stress factors.
This complete nutritional drink mix contains pesticide-free and antibiotic-free ingredients. 70% Protein.
- Strengthens vitality and stamina.
- Works to detoxify the body and brain.
- Antioxidant rich! Just look for yourself.
- Stimulates production of fat digesting enzymes.
- Quickly digested and easily absorbed.
- Supports repair of sickly or damaged tissues.
- Full of known cancer fighting nutrients.
- Contains a full complement of digestive enzymes.
- A natural immune system enhancer.
- Promotes growth of friendly intestinal microflora.
INGREDIENTS: Whey Protein Concentrate, Spirulina Blue Green Micro Algae, Bee Pollen, Siberian Ginseng.
Nutrition Facts
Serving Size: 14 g dry powder, 1 scoop
Servings per Container: About 32
Nutrient Amount % DV
Calories 85
Calories from Fat 6
Calories from Saturated Fat 1
Total Fat 1 g 1%
Saturated Fat 0 g 0%
Cholesterol 10 mg 5%
Sodium 27 mg 2%
Total Carbohydrate 3 g 1%
Dietary Fiber 1 g 4%
Sugars 2 g
Other Carbohydrates 1 g
Protein 10 g
Vitamin A (as Betacarotene) 300%
Vitamin C 1%
Calcium 10%
Iron 4%
Directions: Mix 1 scoop with 8 ozs of fruit juice in a shaker cup. Shake well and enjoy over 200 nutrients daily. Try with ice cubes and a straw.
Store in a cool dark place.
Made in the USA.
Real time shoppers on site
stock running low.