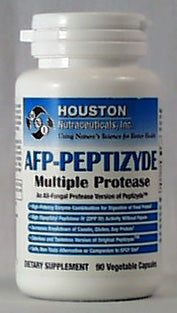 AFP-Peptizyde Multiple Protease
Regular price $35.99 Sale
---
Limited Items Selling Fast
poup with stuff in it
close
---
AFP-Peptizyde Multiple Protease
AFP-Peptizyde Multiple Protease. An all-fungal protease version of Peptizyde. High-potency enzyme combination for digestion of food protein. High Dipeptidyl Peptidase IV (DPP IV) activity without papain. Increases breakdown of casein, gluten, soy protein. Odorless and tasteless version of Original Peptizyde. Safe, non-toxic alternative or companion to GFCF diet.
Devin Houston, Ph.D., acknowledged inventor and founder of Houston Nutraceuticals, Inc, has 20 years of research experience in enzymes, receptor mechanisms, and nutritional biochemistry. HNI provides effective, safe and affordable digestive enzymes that will help your body function better... delivering direct from the scientist to the consumer.
An odorless and tasteless enzyme formulation designed to efficiently breakdown all food proteins including casein, gluten, meat, and soy. Starts to work in the acid environment of the stomach, which decreases the likelihood of peptides being formed and absorbed in the small intestine. May be used as a companion or alternative to the gluten-free/casein-free diet..
Supplement Facts
Serving Size: 1 capsule
Nutrient Amount
Peptidase (with DPP IV) 50,000 HUT
Protease 4.5 25,000 HUT
Protease 6.0 25,000 HUT
OTHER INGREDIENTS: Cellulose, Water.
Suggested Dosage: Take one (1) capsule prior to average sized meals. More capsules may be taken as desired. Capsules can be opened and contents mixed with food or beverage, using care not to inhale enzyme powder.
Contains no added sugar, starch, dairy, soy, wheat, yeast, gluten, artificial flavors, preservatives, or animal derivatives. HNI uses only the highest quality GRAS approved plant-based enzymes available.
Do not use if tamper-proof seal is broken. Keep container closed and store at room temperature. Do not refrigerate.
Real time shoppers on site
stock running low.