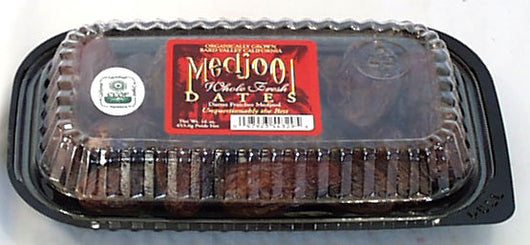 Dates, Medjool, Organic
Regular price $10.50 Sale
---
Limited Items Selling Fast
poup with stuff in it
close
---
Dates, Medjool, Organic
A soft date, often called the "Cadillac of dates, with a thick, meaty flesh and a firm texture. Dark brown, nearly black, tender-skinned, fiberless, meaty and delicious. It is the largest date grown today. Because of their high natural sugar, Medjools will sometimes form a white powder film in the skin--the natural sugars coming to the surface, which does not affect the flavor.
Nutrition Facts
Serving Size: 4 dates
Nutrient Amount % DV
Calories 240
Sodium 0 g
Protein 57 g
Fat 0 g
Dietary Fiber 6.4 g
Cholesterol 0 mg
Potassium 560 mg
Sugars 58 g
Protein 4%
Thiamin (Vitamin B1) 6%
Riboflavin (Vitamin B2) 4%
Niacin 6%
Calcium 4%
Iron 4%
Vitamin B6 8%
Folacin (Folic Acid) 4%
Phosphorous 4%
Magnesium 10%
Zinc 2%
Copper 6%
Pantothenic Acid 4%
Real time shoppers on site
stock running low.