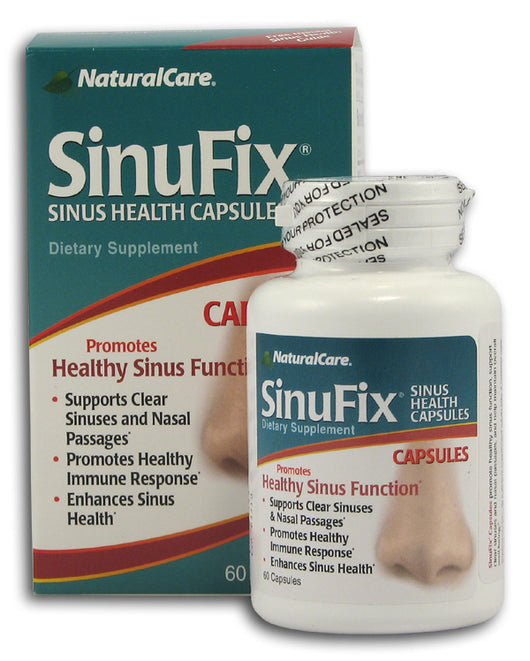 SinuFix
Regular price $29.99 Sale
---
Limited Items Selling Fast
poup with stuff in it
close
---
SinuFix
NaturalCare SinuFix Sinus Health Capsules. Dietary Supplement. Promotes healthy sinus function. Supports clear sinuses and nasal passages. Promotes healthy immune response. Enhances sinus health.
Sinus and Allergy Today: About 25% of the US population are plagued with sinus and allergy symptoms. This translates to 60 million people in the United States alone, inflicting much misery and pain. And the number is soaring due to increased pollution, urban sprawl and more resistance to antibiotics. Each year, Americans rack up over 2.5 billion in sinus related medical care costs alone. Sinus symptoms can start out like a cold with a scratchy throat, stuffy nose, headache, cough, fever and sinus pressure, but they may last longer and be impervious to some prescription drugs or over-the-counter medications.
Sinus congestion can be a miserable and annoying nuisance. It can be a temporary result of a common cold virus, seasonal allergies, or due to airborne fungi. Scientific studies have shown a close relationship between having hay fever and chronic sinus complaints. Untreated sinus symptoms may develop into an even greater annoyance and make you feel lousy. The importance of a safe, effective, all natural treatment for these health concerns cannot be understated.
SinuFix capsules, a comprehensive approach to maintain sinus health must not only control symptoms, but should also help people feel and function better in their everyday lives.
SinuFix dietary promotes healthy sinus function, supports clear sinuses and nasal passages, healthy immune response, and helps maintain overall well being. It contains the highest quality, and the most effective forms of natural ingredients for promoting healthy sinus and respiratory functions. No artificial colors, preservatives, fillers, binders, gluten or yeasts.
To maximize your nasal health combine with SinuFix Nasal Decongestant/Cleansing Mist which helps to relieve sinus pressure and nasal congestion, soothes dry, irritated nasal passages, and cleanses and moisturizes nasal and sinus passages. It is a novel, paten-pending precise-dose spray mist that is nonaddicting, and contains 100% natural ingredients.
According to the Mayo Clinic, the primary cause of chronic sinus infection is fungi -- molds and yeasts which become airborne like pollen. Antibiotics, therefore, are often not effective because they target bacteria. And synthetic over-the-counter decongestants typically become ineffective with more than 3 days usage, and can lead to dependency.
The informative, Free Sinus Guide inside each SinuFix package provides you important tips for sinus and allergy problems.
Supplement Facts
Serving Size: 2 capsules
Servings per Container: 30
Nutrient Amount %DV
Vitamin A 5,000 IU 100%
(as Mixed Carotenes from Dunaliella, Vitamin A Acetate)
Vitamin C (as Calcium Ascorbate) 200 mg 333%
Vitamin B6 (as Pyridoxine HCl) 30 mg 1,500%
Vitamin B5 (as Calcium Pantothenate) 100 mg 1,000%
Calcium (as Calcium Ascorbate) 23 mg 2.3%
Zinc (as Zinc Methionate) 15 mg 100%
Proprietary Blend 925mg *
Nettle Extract (Leaf, Urtica Dioica) 4:1 *
Quercetin Bioflavonoid *
Bromelain 1,600 MCU *
N-Acetyl Cysteine (NAC) *
Garlic Powder (Bulb, Odor Controlled) *
Wild Mediterranean Oregano Extract 4:1 (Leaf) *
Echinacea Purpurea Root Extract 4% Phenols *
Grapefruit Seed Extract *
Peppermint Leaf Extract 2% Essential Oil *
Butterbur *
Goldenseal (Root) *
Cryptoxanthin (from Dunaliella) *
Astaxanthin Complex (from Dunaliella) *
* Daily Value not established.
OTHER INGREDIENTS: Gelatin, Glycerin, Titanium Dioxide (Natural Mineral Capsule Color).
Suggested Use: As a dietary supplement, adults take 2 capsules daily. For optimal benefit, take 2 capsules twice daily during the sinus and allergy season.
Made in USA.
Real time shoppers on site
stock running low.