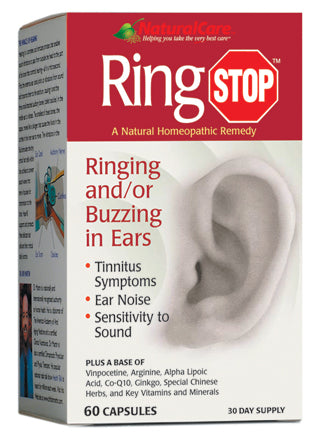 Ring Stop
Regular price $32.50 Sale
---
Limited Items Selling Fast
poup with stuff in it
close
---
Ring Stop
RingStop contains the highest quality, all-natural proprietary, homeopathic formula in strict compliance with the Homeopathic Pharmacopoeia of the United States. Homeopathic remedies have demonstrated unsurpassed safety for over 180 years. RingStop helps reduce the annoyance and frustration that comes with tinnitus. For added benefits, RingStop also contains a base of all-natural herbal extracts, specific amino acids, important antioxidants, and special vitamins and minerals. Contains no synthetic drugs, artificial chemicals, or additives.
Up to 90% of all people who seek treatment for tinnitus have some level of hearing loss, usually noise induced. Exposure to loud noises is bar far the most likely culprit. Other suspects include stress, high blood pressure, aging, ototoxic (harmful to hearing) drugs, ear or sinus infections, jaw, neck or cranial bone misalignment, thyroid disorders and head and neck trauma.
Since tinnitus might be a symptom of another health problem, see your doctor for any condition which may require his/her services. Caffeine, tobacco, alcohol, aspirin, antihistamines and prescriptions or over-the-counter medications can aggravate existing tinnitus. Although there remains no cure, tinnitus symptoms can be overcome. RingStop is designed to safely relieve and prevent tinnitus and ear noise symptoms.
Indications: For the symptomatic relief, and prevention of the recurrence, of minor, occasional tinnitus symptoms, ringing and/or buzzing in the ears, and sensitivity to noises after diagnosis by a doctor.
ACTIVE INGREDIENTS: Calcarea Carbonica (Calcium Carbonate) 8x, 30x; Cimicifuga Racemose (Black Cohosh Root) 3x, 6x, 12x, 30x; Carbo Vegetabilis (Vegetable Charcoal) 8x, 12x, 30x; Cinchona Officinalis (Peruvian Bark) 3x, 6x, 30x; Chininum Sulphuricum (Sulphite of Quinine), 12x, 30x; Coffea Cruda (Unroasted Coffee) 3x, 12x; Graphites (Plumbago) 8x, 12x, 30x; Kali Carbonicum (Potassium Carbonate) 12x, 30x; Lycopodium (Club Moss) 6x, 12x, 30x; Natrum Salicylicum (Sodium Salicylate) 6x, Salicylicum Acidum (Salicylic Acid) 6x.
INACTIVE INGREDIENTS: Alpha Lipoic Acid, Betacarotene, Chinese Asarum (Xi Xin, Leaf), Chinese Cassia (Gui Zhi, Bark), Chinese Peony (Chi Shao, Root), Chinese Pueraria (Ge Gen, Root), Cyancobalamin, Folic Acid, Garlic EXtract (Bulb), Ginger (Root), Ginkgo Biloba Extract (Leaf), Ipriflavone, Job's Tears (Yi Yi Ren, Seed), Kelp, L-Arginine Hydrochloride, Ligusticum Wallichii (Chuan Xiong, Root), Magnesium Amino Acid Chelate, Magnolia (Xin Yi Hua, Flower), Melatonin, N- Acetylcysteine, Pyridoxine, HCl, Vinpocetine, Vitamin A Acetate, Zinc Amino Acid Chelate.
Directions: Start with two capsules twice daily for the first 30-60 days. Thereafter reduce the dosage to one capsule twice daily. For the best results use daily for 3 to 6 months.
Warnings: If you are presently taking agents for blood-thinning, such as Coumadin or Warfarin, or if you are pregnant or nursing, seek the advice of a health professional before using this product. If symptoms continue to persist after a reasonable period of time, or if symptoms get worse, consult your doctor.
Real time shoppers on site
stock running low.