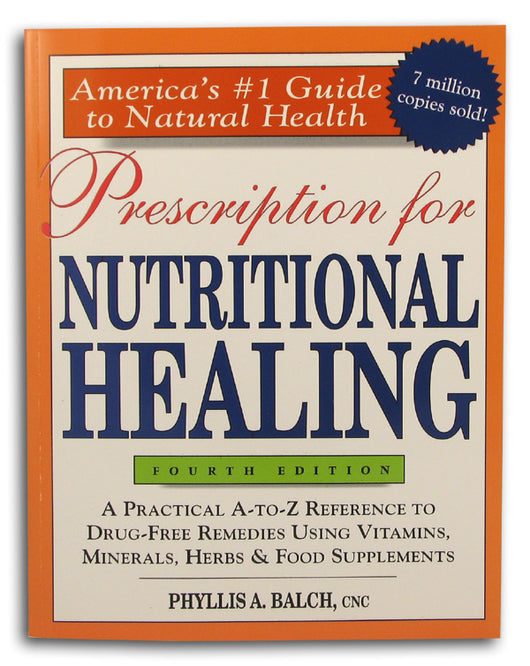 Prescription For Nutritional Healing
Regular price $29.99 Sale
---
Limited Items Selling Fast
poup with stuff in it
close
---
Prescription For Nutritional Healing
Prescription for Nutritional Healing, 4th Edition, by Phyllis A. Balch, CNC. A Practical A-to-Z Reference to Drug-Free Remedies Using Vitamins, Minerals, Herbs & Food Supplements. America's #1 Guide to Natural Health. 7 million copies sold!
Natural health's number one bestseller for more than twenty years, now revised and updated.
With seven million copies sold, Prescription for Nutritional Healing is the nation's number one--best-selling guide to holistic health. For more than twenty years, people have relied on this invaluable reference as a guide to improving health through nutrition and supplementation. Now thoroughly updated, the fourth edition incorporates the most recent information on the benefits of alternative healing and preventive therapies.
Part One lists and explains the most commonly available types of nutrients, food supplements, and herbs. Part Two describes nearly 300 disorders and problems, from abscesses to wrinkles, and identifies the supplements that can be used to combat these conditions. Part Three is a guide to alternative remedies and therapies that can be used in conjunction with a nutritional program. This new edition also includes information on emerging health news.
The fourth edition includes:
- Updated dosage recommendations for vitamins, herbs, and other supplements
- New discussions that reflect our evolving understanding of vitamin E and vitamin B12
- The most up-to-date research on disorders such as cardiovascular disease, diabetes, and fibromyalgia
- The latest findings on a possible link between Alzheimer's disease and cardiovascular disease
- Treatment and recovery plans for substance abuse of alcohol, stimulants, marijuana, and opiates
Whether you are looking for relief from a particular ailment or simply wish to maintain optimum health, Prescription of Nutritional Healing quickly and easily provides an abundance of information to design a complete nutritional program.
Phyllis A. Balch, CNC, was a leading nutritional counselor for more than two decades. Convinced that nutrition was, in many cases, the answer to regaining and maintaining health, Balch testified before Congress on the power of natural healing. Her other books include Prescription for Nutritional Healing: The A-to-Z Guide to Supplements, Prescription for Dietary Wellness, Prescription for Herbal Healing, and Recetas Nutritivas Que Curan.
Softbound, 870 pages with Index.
Real time shoppers on site
stock running low.