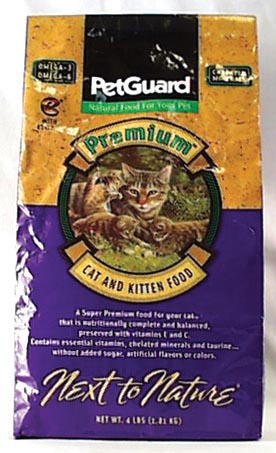 PetGuard Cat/Kitten Fresh Chicken
Regular price $17.75 Sale
---
Limited Items Selling Fast
poup with stuff in it
close
---
PetGuard Cat/Kitten Fresh Chicken
PetGuard Premium Cat & Kitten Dry Food Free of By-Products, Corn, Soy, Wheat and Yeast.
Next to Nature. Natural food for your pet. 100% Nutritionally balance and complete.
Premium cat and kitten food. A super premium food for your cat that is nutritionally complete and balanced, preserved with vitamins E and C. Contains essential vitamins, chelated minerals and taurine... without added sugar, artificial flavors or colors.
Rich in Omega-3 and Omega-6 fatty acids. Chelated Minerals. With Ester-C.
A naturally delicious, protein-rich meal free of by-products, artificial flavors, colors, sweeteners and sugars.
Optimum nutrition from a variety of fresh natural ingredients plus essential vitamins, taurine and chelated minerals. PetGuard Premium dry cat food is formulated with fresh chicken which provides naturally occurring Taurine; an essential amino acid required in a cat's diet to help prevent heart disease and blindness. Cats are carnivores and require increased levels of protein in their diet. Our protein-rich crunchy nuggets meet the special needs for all stages of a cat's life, from kitten to adult. PetGuard Premium dry cat food provides your cat with the protein, carbohydrates vitamins and minerals needed for healthy muscles, strong bones, bright eyes, a full and shiny coat, and a happy disposition.
The PetGuard Commitment: Today people are concerned with the important relationship between nutrition and health. We are all concerned about actual ingredient sources, seeking products free of artificial ingredients, colors, preservatives, excess sugars and salt. At PetGuard, our concern for minimizing toxic chemicals in our environment and sensitivity for improving our lifestyles extend to our pets as well.
Preventive health care can help add to the length and quality of your pet's life, too. All pets deserve the benefits from a lifestyle of optimum nutrition, exercise, good grooming habits and regular veterinary visits. The PetGuard philosophy embodies a commitment to you and your pets to provide only natural alternatives for a healthier environment and lifestyle. Our natural pet care products offer the discriminating and conscientiously concerned pet parents the opportunity to provide pets with the same health benefits that we all seek for ourselves.
Premium Taste and Digestibility: Cats love the taste and texture of PetGuard Premium dry cat food. It is specially formulated for easy and complete digestibility, resulting in high absorption of food and nutrients. For this reason, your cat may produce a smaller stool volume.
Feeding Suggestions:
PetGuard Premium dry cat food is an ideal product for self-feeding regimen with adult cats and kittens over 3 months of age. Since most cats and older kittens can regulate the amount of food they need, simply pour a serving your cat will completely consume during the day. This will allow your cat or kitten to nibble on the food when hungry, which is the way most cats prefer to eat.
Kittens up to 3 months of age: At weaning and until the kitten has developed teeth to consume a completely dry product, moisten PetGuard Premium dry cat food with water, or broth. For the very young kitten, just before weaning, moisten the food to the consistency of baby food and feed several times a day without the mother. After weaning, feed as much of this mixture as the kitten will eat within 30 minutes, 3 to 4 times a day. As the kitten grows older, change to a totally dry feeding regimen by gradually decreasing the amount of added liquid and decreasing the number of feedings.
Pregnant and nursing queens: The pregnant queen needs only slightly more food during pregnancy until she is ready to have her kittens. After queening, her food requirements are greatly increased, depending on the number of kittens she is nursing. Many nursing queens continue to do well on a totally dry feeding regimen, although some need to have their food moistened to meet the increased fluid requirements.
Mixing other liquids or Premium Canned Foods with PetGuard Premium Dry Cat Food: If you prefer to feed PetGuard Premium dry cat food moistened, mix 1 part liquid (water or broth) with 4 parts of PetGuard Premium Dry Cat food by volume and feed twice a day. The average adult cat needs about 4 ounces daily, although this will vary with size, sex, age and environment. If you mix it with canned foods, limit the amount of canned food to one-third or less of the total diet.
Note: Varying your cat's diet by adding portions of fresh meat and vegetables is a natural approach to nutritional well being.
Remember the water! Be sure your cat always has plenty of fresh, clean drinking water. An adequate water intake is as imperative to your pet as it is to you in achieving good health. Supply fresh, clean water regularly.
If your cat is new to PetGuard Premium: To accustom your cat to a new food, we suggest mixing the new food with his or her current food. Gradually reduce the amount of the current food until your cat is eating the proper ration of PetGuard Premium dry cat food. Cats, like people, are individuals, and their food requirements vary depending on age, breed, size, activity and environment. Abrupt changes in your pet's diet often cause temporary intestinal irritation and soft stools.
Your pet's veterinarian: Periodic visits and annual checkups are an important part of your pet's preventive health care program. Your veterinarian should be your pet's next best friend.
INGREDIENTS: Fresh Chicken, Chicken Meal, Brown Rice, Sunflower Oil, Oatmeal, Chicken Fat (Preserved With Mixed Tocopherols), Fish Oil, Dried Whole Eggs, Dried Kelp, Dried Whey, Calcium Ascorbate (Source of Vitamin C), Apple Fiber, Alfalfa Meal, Sea Salt, DL-Methionine, Lecithin, Taurine, Potassium Chloride, Choline Chloride, L-Lysine, Yucca Schidigera Extract, Vitamin A Supplement, Ergocalciferol (Source of Viatmin D2), Vitamin E Supplement, Riboflavin Supplement (Source of B2), Vitamin B12 Supplement, Calcium Pantothenate, Thiamine (Source of Vitamin B1), Biotin, Niacin, Folic Acid, Pyridoxine Hydrochloride (Source of Vitamin B6), Iron Amino Acid Chelate, Zinc Amino Acid Chelate, Manganese Amino Acid Chelate, Cobalt Amino Acid Chelate, Sodium Selenite.
GUARANTEED ANALYSIS:
Crude Protein………………………..30% Min
Crude Fat…………………………….15% Min
Crude Fiber……………………………3% Max
Moisture………………………………12% Max
Ash.…………………………………….5% Max
Calcium….……………………………..1% Min
Phosphorus…………………………0.8% Min
Magnesium………………………….0.10% Max
Taurine………………………………0.12% Min
Vitamin E……………………..…250 IU/Kg Min
*Vitamin C………………………100 Mg/Kg Min
*Fatty Acids (Omega 3)……………1.80% Min
*Fatty Acids (Omega 6)……………7.20% Min
*Not recognized as an essential nutrient in the AAFCO Nutrient Profile
Animal feeding studies using procedures from the Association of American Feed Control Officials (AAFCO) substantiate that PetGuard Premium Cat and Kitten food provides complete and balanced nutrition for All Life Stages.
Store in a cool, dry place protected from moisture.
Made in U.S.A.
Real time shoppers on site
stock running low.