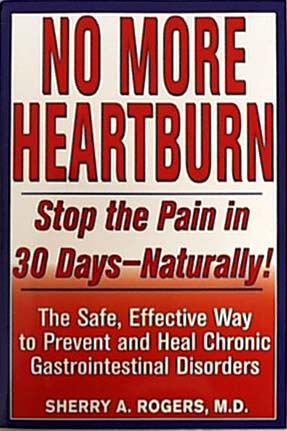 No More Heartburn
Regular price $15.99 Sale
---
Limited Items Selling Fast
poup with stuff in it
close
---
No More Heartburn
Sherry A Rogers, MD
258 pages, softbound.
Stop the pain in 30 days, naturally! The safe, effective way to prevent and heal chronic gastrointestinal disorders.
Did you know traditional gastrointestinal treatment is virtually guaranteed to cause illness. Popular antacids and prescription acid blockers actually aggravate your condition. Bad breath can be a signal of a serious gastrointestinal disorder.
In this remarkable book, Dr. Sherry A Rogers, a leading expert in drug-free gastrointestinal therapy, explains how you can pinpoint the causes of your stomach distress and offers easy-to-follow advice for achieving and maintaining total gastrointestinal health.
The cutting edge methods detailed here return your body to its natural state of health, without the risks and side effects of prescription drugs. Sample menus of tasty, easy-to-prepare meals, clear, explanatory charts and tables, and an extensive list of gastrointestinal health resources make this vital reading for anyone suffering the chronic agony of heartburn.
Cure heartburn and indigestion forever, without drugs!
Real time shoppers on site
stock running low.