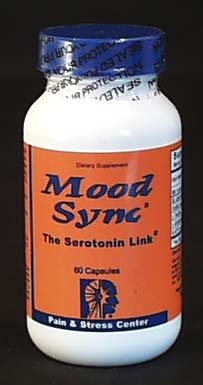 Mood Sync, The Seratonin Link
Regular price $18.99 Sale
---
Limited Items Selling Fast
poup with stuff in it
close
---
Mood Sync, The Seratonin Link
Mood Sync contains 5-HTP and amino acids that are precursors for the formation of vital neurotransmitters in the brain. Neurotransmitters control brain activity and anxiety by transmitting inhibitory signals between brain cells. 5-HTP is the precursor for serotonin in the brain.
Mood Sync is the perfect answer for down or stressful times when you need support.
Supplement Facts
Serving Size: 1 Capsule
Servings per Container: 60
Nutrient Amount % DV
Vitamin C (as Ascorbyl Palmitate) 6 mg 5%
B6 (as Pyridoxine HCl) 5 mg 250%
L-Tyrosine 200 mg
GABA (Gamma Amino Butyric Acid) 125 mg
L-Taurine 110 mg
L-Glutamine 75 mg
5-HTP (5-Hydroxytrptophan) 25 mg
OTHER INGREDIENTS: Gelatin (Capsule).
Directions: Take one or two capsules in the morning, afternoon and evening, or as directed by a health care professional.
Use only as directed. May cause drowsiness. If you are pregnant, nursing or using any prescription drugs, taking an SSRI medication, or if you have a history of melanoma, consult your doctor or pharmacist before using this product.
Real time shoppers on site
stock running low.