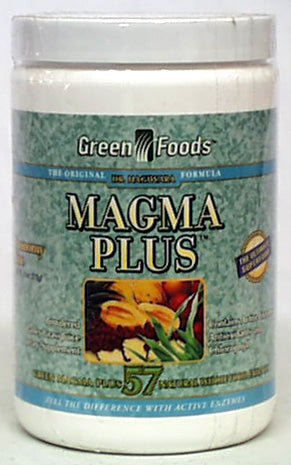 Magma PLUS
Regular price $239.99 Sale
---
Limited Items Selling Fast
poup with stuff in it
close
---
Magma PLUS
Powdered barley grass juice dietary supplement. Green magma plus 57 natural whole food extracts. Contains active enzymes, antioxidants and chlorophyll. The ultimate super food. The original Dr Hagiwara formula. Feel the difference with active enzymes.
Contains no added sugar, salt, colorings or fillers.
INGREDIENTS: Organic Powdered Juice from Young Barley Grass (1800 mg), Mixed Vegetable Extracts (Carrot, Wheat Grass, Alfalfa, Lettuce, Cabbage, Red Beets, Daikon Radish, Bean Sprouts, Chelery, Tomato, Spinach, Kale) (1575 mg), Select Whole Food Extracts (Chicory Root [FOS], Wheat Germ Essence, Coix, Acerola, Rice) (1404 mg), Vegetarian-Derived Nutrients (Organic Maltodextrin [a complex carbohydrate], Glycomannan) (995 mg), Soy Lecithin (810 mg), Bee Products (Honey, Bee Pollen, Royal Jelly) (720 mg), Mixed Fruit Extracts (Papaya, Mango, Apple, Banana, Pineapple, Raspberry), Herbal Extracts (Licorice Root, Milk Thistle, Echinacea Purpurea, Eleutherococcus Senticosus, American Ginseng, Astragalus Root, Aloe Vera, Green Tea, Ginger Root, Stevia, Reishi Mushroom, Ginkgo Biloba, Yucca Root, Cat's Claw, Garcinia Cambogia, Garlic, Cayenne Pepper, Bilberry, Grape Seed) (508 mg), Green Algae (Spirulina, Chlorella) (180 mg), Probiotic Cultures (B Bificus, L Acidophilus, L Plantarum) (2.7 billion cells), Vitamin E (90 IU), Vegetarian Source Enzymes (Amylase, Lipase, Protease) (600 mcg). Total percentage of organic contents 31%
Supplement Facts
Serving Size: 3 tsp (9 g)
Servings per Container: 34
Nutrient Amount % DV
Total Calories 36
Calories from Fat 9
Total Carbohydrate 7 g 2%
Dietary Fiber 3 g 2%
Sugars 1 g
Protein 1 g 2%
Vitamin A (100% as Beta Carotene) 9500 IU 190%
Vitamin C 70 mg 120%
Vitamin E 135 IU 450%
Thiamin 600 mcg 40%
Vitamin B6 300 mcg 15%
Pantothenic Acid 2.5 mg 25%
Vitamin K 15 mcg 18%
Calcium 25 mg 4%
Iron 4.5 mg 25%
Magnesium 40 mg 10%
Sodium 27 mg 2%
Potassuim 90 mg 3%
Phosphorous 110 mg 10%
Chlorophyll 15 mg
Suggested use: Stir 3 teaspoons of Magma Plus into an 8 oz glass of water or your favorite juice. Do not mix with hot liquids since heat will neutralize active enzymes. Recommended once or twice daily on an empty stomach (20 minutes before or 2 hours after a meal). Store in a cool dry place with lid tightly closed.
Real time shoppers on site
stock running low.