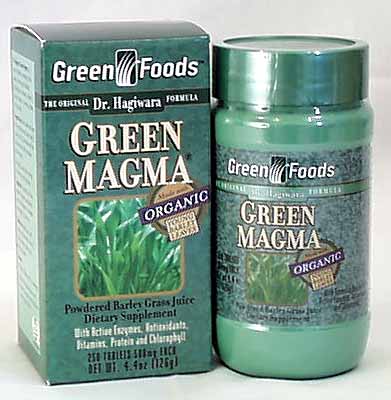 Green Magma Barley Juice, Tabs, Org
Regular price $25.99 Sale
---
Limited Items Selling Fast
poup with stuff in it
close
---
Green Magma Barley Juice, Tabs, Org
A naturally alkaline, energizing supplement made with organic young barley leaves containing antioxidants (including betacarotene, vitamin C), enzymes, vitamins, minerals, protein, and chlorophyll.
Yoshihide Hagiwara, MD became aware of the problems caused by the many chemicals used in modern medicine and vowed to devote his life to a natural nutritional approach to health. After years of research on over 200 types of plants, including fruits, vegetables, grasses, and herbs, he found that "young barley grass is one of the most nutritionally balanced foods in nature."
In order to capture and protect the delicate nutrients and enzymes in freshly harvested young barley grass, he developed a unique extraction and spray-dry process that earned him Japan's prestigious Science and Technology Award. This juice process makes possible this powdered, nutrient-rich green magma.
INGREDIENTS: Powdered from Young Organic Barley Leaves, Maltodextrin (a complex carbohydrate), Brown Rice.
Suggested use: Take 6 tablets with cold water or non-acidic juice as a supplemental beverage. (Do not take with hot liquids or foods). Recommended 2-3 times daily on an empty stomach.
No added sugar, salt, colorings or fillers. Free of animal products, soy, wheat and yeast.
Certified Organic
Real time shoppers on site
stock running low.