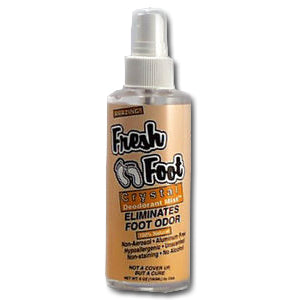 Fresh Foot Spray
---
Limited Items Selling Fast
poup with stuff in it
close
---
Fresh Foot Spray
Fresh Foot Crystal Deodorant Mist eliminates foot odor. Non-aerosol. Aluminum Free. Hypoallergenic. Unscented. Non-staining. No alcohol. Not a cover up, but a cure..
DSA has formulated the first liquid deodorant spray made from natural mineral salts. These are the same salts that are found in DSA's deodorant stones. We know you will find our fine mist spray a welcome addition to our line of 100% pure and natural deodorant products which are good for you and our environment. It's just pure and natural!
INGREDIENTS: Mineral Salts and Purified Water.
To use: Pump 2 to 6 sprays on feet. Note: If fine mist sprayer becomes clogged or fails to spray, rinse spray tube with hot water to clear clog.
Ozone friendly.
Natural protection.
Kills odor causing bacteria.
No animal testing or by-products.
Unscented/Non-staining.
Shoes last longer when your feet don't smell.
Manufactured and bottled in the USA by DSA
Real time shoppers on site
stock running low.