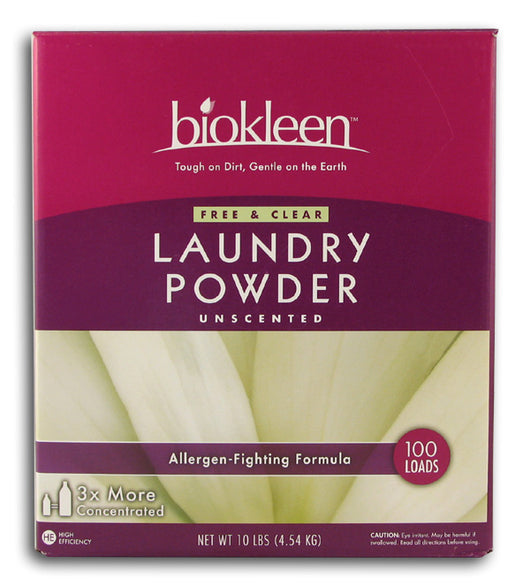 Free & Clear Laundry Powder
Regular price $18.75 Sale
---
Limited Items Selling Fast
poup with stuff in it
close
---
Free & Clear Laundry Powder
Biokleen Unscented, Free & Clear Laundry Powder. Allergen-Fighting Formula. 100 Loads. 3x more concentrated. High Efficiency.
The Perfect Laundry System: Biokleen products have always been free of synthetic fragrances and clear of dyes or brighteners, making our products a safe and effective choice for those with chemical sensitivities and allergies. There are some people who cannot tolerate any fragrance, natural or not, making our Free & Clear Laundry Powder a perfect alternative. You get the same cleaning power as our original Laundry Powder, and like all of our products, is super concentrated.
We are the environment: Our everyday cleaning choices affect our health, the health of our families, and the health of our planet. Biokleen products are concentrated in order to leave the smallest footprint on the environment. Concentrate = Less Packaging = Less Energy Used in Shipping = More Value for Everyone.
Our Free & Clear Laundry Powder is fragrance free, and like all Biokleen products, is clear of dyes and brighteners. Effectively cleans tough stains and odors while brightening whites and colors. Rinses clean, leaving no residue on clothes.
- Environmentally friendly with no negative effects on rivers, streams, plants or wildlife.
- Kind to those with chemical sensitivities and allergies.
- No artificial fragrance, colors or preservatives.
- Biodegradable and Ozone Safe.
- Trusted company since 1989.
Contains no: Phosphate, chlorine, ammonia, Petroleum solvents, alcohol, butyl, glycol ether, metasilicate, brighteners, SLS or SLES, EDTA, DEA. No SARA Title III, CA 65, or EPA priority pollutants. No materials listed by the ACGIH as hazardous.
INGREDIENTS: Soda Ash, Zeolites, Sodium Citrate, Vegetable Fiber Chelators, Sodium Percarbonate, Grapefruit Seed and Pulp Extracts (has no scent), Natural Corrosion Inhibitors, Surfactants-Degreasers and Conditioners from Coconut and/or Corn, Low pH Silicates and Sodium Sulfate.
No animal testing. No animal ingredients.
Directions & Uses: Add Laundry Powder, start water, add laundry. Always wash whites and colors separately, and follow manufacturer's instructions.
Top-load washers : Use 3/4 scoop (3 Tbs.) per full load..
Front-loading washers (HE): Use 1/2 scoop (2 Tbs.) per full load.
Cautions: Eye irritant. In case of eye contact, flush water for at least 15 minutes. Contact a physician. In case of ingestion, do not induce vomiting; drink plenty of water to dilute. Contact a physician.
Keep out of reach of children.
Made in U.S.A.
Real time shoppers on site
stock running low.