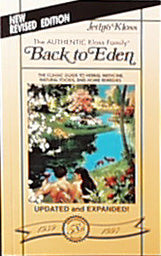 Back to Eden
---
Limited Items Selling Fast
poup with stuff in it
close
---
Back to Eden
This newly revised and updated edition contains the original text plus 300 pages of new material added in the spirit and tradition of Jethro Kloss by Promise Kloss Moffett, daughter of the author, nearly 1,000 pages in all.
Now, this new revised edition instantly makes all other copies of the book obsolete. Because the new version is so much easier to use, every Back to Eden owner will want the new revised edition. This is the only edition authorized by the family of Jethro Kloss.
Paperbound. Nearly 1,000 pages.
Real time shoppers on site
stock running low.