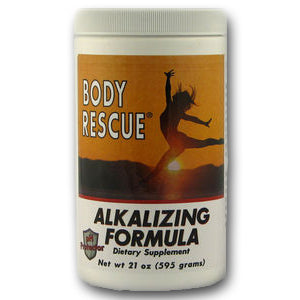 Alkalizing Formula Powder
Regular price $22.99 Sale
---
Limited Items Selling Fast
poup with stuff in it
close
---
Alkalizing Formula Powder
Alkalizing Formula dietary supplement. pH protector.
Body Rescue Alkalizing Formula counteracts the acid onslaught of modern life with a concentrated blend of high-alkalinity whole foods fortified with nature's most effective acid-taming herbs. It's a great way to add quality alkaline foods to your daily diet.
Nutrition Facts
Serving Size: 2 Tbsp (28.3 g)
Servings per Container: 21
Nutrient Amount %DV
Calories 80
Calories from Fat 0
Total Fat 0 g 0%
Total Carbohydrates 21 g 7%
Dietary Fiber 5 g 20%
Sodium 115 mg 5%
Protein 3 g 6%
Vitamin A USP (as palmitate) 5000 IU 100%
Vitamin C USP (as ascorbic acid) 60 mg 100%
Vitamin D USP (as cholecalciferol) 400 IU 100%
Vitamin E USP (as d-alphatocopheryl acetate) 30 IU 100%
Thiamin USP (as thiamin HCl) (vitamin B1) 1.5 mg 100%
Riboflavin USP (vitamin B2 1.7 mg 100%
Niacinamide 20 mg 100%
Vitamin B6 (as pyridoxine HCl) 2 mg 100%
Folic Acid USP 400 mcg 100%
Vitamin B12 USP (as cyanocobalamin) 6 mcg 100%
Biotin USP 300 mcg 100%
Pantothenic Acid USP (as d-calcium pantothenate) 10 mg 100%
Calcium (from calcium hydroxide) 750 mg 75%
Iron (from ferrous fumarate) 18 mg 100%
Phosphorus 300 mg 30%
Iodine 150 mcg 100%
Magnesium (from magnesium oxide) 400 mg 100%
Zinc (from zinc oxide) 15 mg 100%
Selenium (from sodium selenite) 49 mcg 70%
Copper (from copper gluconate) 2 mg 100%
Chromium (from chromium chloride) 48 mcg 40%
Molybdenum (from sodium molybdate) 45 mcg 60%
Potassium (from potassium citrate, phosphate, and iodide) 230 mg 7%
Proprietary Herbal Blend 25.5 g
Oat Fiber, Apple Pectin, Instant Baby Lima Bean Powder, Sweet Potato Flakes, Rice Syrup Solids, Spray-Dried Molasses, Papain (from Papaya), Bladderwrack Powder, Buchu Leaf Powder, Burdock Root Powder, Chickweed Powder, Parsley Powder.
OTHER INGREDIENTS: Tricalcium Phosphate, Natural Flavor.
Suggested use: As a dietary supplement, mix 2 tablespoons (1 level scoop) with 1 cup water, or 1 cup low fat milk (almond or rice milk may be substituted) in a blender for a "milkshake", or mix 2 tablespoons (1 level scoop) of powder with 1 cup of your favorite fruit juice in a blender. For a thicker drink, add ice and whole fruit.
Do not use if seal is broken. Store in a cool, dry place. Keep out of reach of children.
Real time shoppers on site
stock running low.