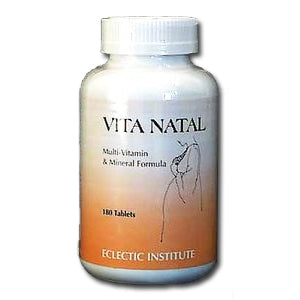 Vita Natal
Regular price $27.50 Sale
---
Limited Items Selling Fast
poup with stuff in it
close
---
Vita Natal
Eclectic botanicals are organically grown, wildcrafted or from the best available source. They are carefully prepared fresh or shade-dried. Their herbs are made with organic alcohol, the only available on the market.
Formulated by clinical nutritionists and natural childbirth specialists for pregnant and lactating women. Hypoallergenic. No yeast.
Supplement Facts
Serving Size: 6 Tablets
Nutrient Amount
Vitamin A (Palmitate) 5,000 IU
Beta Carotene (Pro-Vitamin A) 5,000 IU
Vitamin C (Calcium Ascorbate) 1000 mg
Vitamin D-3 (Cholecalciferol) 400 IU
Vitamin E (d-Alpha succinate) 400 IU
Vitamin K-1 (Phylloquinone) 25 mcg
Vitamin B-1 (Thiamine HCl) 50 mg
Vitamin B-2 (Riboflavin) 50 mg
Niacinamide 100 mg
Vitamin B-6 (Pyridoxine HCl) 75 mg
Folic Acid 800 mcg
Vitamin B-12 50 mcg
Biotin 200 mcg
Pantothenic Acid 100 mg
Calcium (Amino Acid Chelate) 1000 mg
Iron (Amino Acid Chelate) 50 mg
Iodine (Kelp) 150 mcg
Magnesium (Amino Acid Chelate) 500 mg
Zinc (Amino Acid Chelate) 30 mg
Selenium (Amino Acid Chelate) 150 mcg
Copper (Amino Acid Chelate) 2 mg
Manganese (Amino Acid Chelate) 15 mg
Chromium (Amino Acid Chelate) 150 mcg
Potassium (Amino Acid Chelate) 99 mg
Choline (Bitartrate) 50 mg
PABA (Para Amino Benzoic Acid) 50 mg
Bioflavonoids (Citrus) 100 mg
Rutin 20 mg
Hesperidin 15 mg
Betaine HCl 150 mg
Lecithin 100 mg
Raspberry (Rubus idaeus) leaf 100 mg
Dandelion 50 mg
Yellow Dock 50 mg
Alfalfa (Medicago sativa) leaf & flower 50 mg
Nettles (Urtica dioica) leaf 50 mg
Ginger (Zingiber spp.) Root 25 mg
Directions: As a dietary supplement for pregnant or lactating women, 6 tablets daily (2 with each meal) or as directed by a physician.
Real time shoppers on site
stock running low.