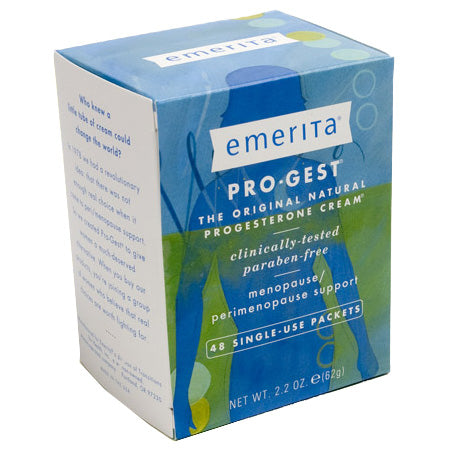 Pro-Gest, Single Pkts.
Regular price $37.75 Sale
---
Limited Items Selling Fast
poup with stuff in it
close
---
Pro-Gest, Single Pkts.
Pro-Gest Body Cream 48 Singe-Use Packets. Clinically tested. The Original Natural Progesterone Cream. Menopause Solutions.
"Emerita ~ Improving the health and lives of women". We believe finding personal balance is key to a woman's health and well being. Regular exercise, a healthy diet, and a proactive approach to physical, mental, emotional and spiritual wellness are the cornerstones for the foundation of life-long health.
INGREDIENTS: Distilled Water, Aloe Barbadensis Gel, Tocopheryl Acetate, Cetyl Alcohol, Octyl Palmitate, Sweet Almond (Prunus Amygdalus) Oil, Panthenol, PEG-8 Stearate, Stearic Acid, Glycerine, USP Progesterone, Polysorbate 65, Propylene Glycol, Lemon (Citrus Medica Limonium) Oil, Carbomer, Methylparaben, Propylparaben, Triethanolamine, Phenoxyethanol.
Suggested Use: Massage 1 to 2 single use packets (each packet is the equivalent of 1/4 teaspoon) into skin twice daily for 21 days each month. Discontinue for 7 days and repeat. Individual needs may vary. Detailed instructions inside.
This product and these statements are not intended to diagnose treat, cure or prevent any disease.
Application is intended for external cosmetic use. Consult a health care professional before using this or any product during pregnancy or if you have a medical condition.
Keep out of reach of children.
This product contains no mineral oil, petroleum or animal products and has not been tested on animals.
Made in USA.
Real time shoppers on site
stock running low.