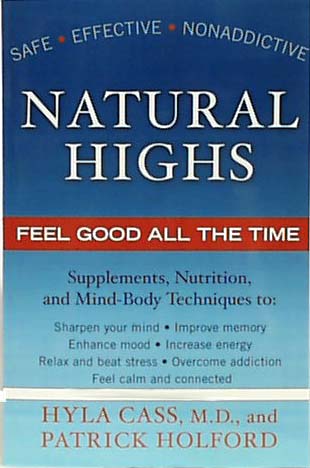 Natural Highs Feel Good All The Time
Regular price $14.99 Sale
---
Limited Items Selling Fast
poup with stuff in it
close
---
Natural Highs Feel Good All The Time
Hyla Cass MD
Patrick Holford
340 pages, softbound.
Supplements, nutrition and mind-body techniques to be happy and increase energy, relax and beat stress, sharpen your mind and improve your memory, feel connected and overcome addiction.
Are you too tired to concentrate at work? Have you lost your youthful energy and vigor? Is it impossible for you to get through the morning without a cup of coffee? Do you find it hard to quit smoking? Do you rely on sugary snacks to boost your energy?
The quick fixes - caffeine, cigarettes, sugar and alcohol - that we often use to get through the day actually contribute to the underlying problems of fatigue, depression, anxiety and brain fog. In Natural Highs, two leading authorities in psychology and nutrition present safe, natural alternatives to these chemical crutches. A breakthrough program that includes information about nutritional supplements, herbs and simple mind-body therapies will help you increase your energy, sharpen your mind, elevate your mood, beat stress.
This remarkable book includes valuable research that shows how to formulate the perfect "brain food" to improve how you think and feel, resulting in a great sense of connection and joy in everyday life - the natural high.
Real time shoppers on site
stock running low.