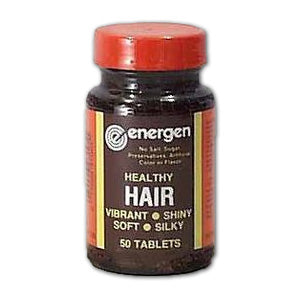 Hair Formula
---
Limited Items Selling Fast
poup with stuff in it
close
---
Hair Formula
Supplement Facts
Each Tablet Contains: Amount
Vitamin E (d-alpha tocopheryl) 30 IU
Folic Acid (Yeast) 400 mcg
Vitamin B6 (Yeast) 10 mg
Biotin (Yeast) 300 mcg
Pantothenic Acid (Yeast) 25 mg
Vitamin F (Unsaturated Fatty Acids) 25 mg
Inositol (Yeast) 10 mg
Para Amino Benzoic Acid (Yeast) 10 mg
Iodine (Kelp) 50 mcg
Copper (Terra Sulfate) 1 mg
Zinc (Terra Sulfate) 15 mg
Silica (Horsetail Herb) 5 mg
Sulfur (Terra Sulfate) 5 mg
Selenium (Nutrition 21 Yeast) 10 mcg
L-Methionine 200 mg
L-Cysteine 25 mg
L-Cystine 12.5 mg
Horsetail Herb 30 mg
The above ingredients are in a base of Calcium, Phosphorous, Soy Protein and Gelatin containing all of the Essential Amino Acids and Trace Minerals with natural Magnesium Stearate from vegetable oil as a lubricant.
Suggested Use: As a dietary supplement for hair, 1 tablet daily.
No salt, sugar, preservatives, artificial color or flavor.
Real time shoppers on site
stock running low.