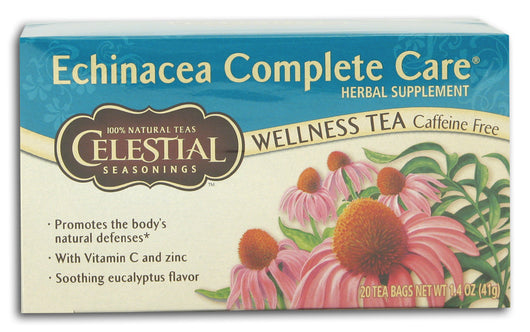 Echinacea Complete Care
---
Limited Items Selling Fast
poup with stuff in it
close
---
Echinacea Complete Care
Echinacea Complete Care Wellness Tea. Herbal Supplement. 100% Natural Tea. Promotes the body's natural defenses. With Vitamin C and Zinc. Soothing Eucalyptus flavor.
Blendmaster's Notes: Bolster your body's defenses with the proprietary blend of revitalizing herbs and vitamins found in Echinacea Complete Care. Echinacea has been used for centuries by Native Americans to stimulate the immune system, and recent studies have shown that echinacea may support the body's ability to defend itself against common ailments. With the added antioxidant properties of Vitamin C and zinc, and essential mineral, plus the soothing flavors of eucalyptus and peppermint, this powerful blend provides great-tasting support for your body's natural defenses.
Our Wellness Heritage: Celestial Seasonings was founded in 1969 with the belief that our all-natural herbal teas foster everyday wellness as part of a balanced, healthy lifestyle. True to this original vision, our handcrafted Wellness Teas feature traditional ingredients used for centuries to naturally support the body's defenses. Consistently effective and always delicious, our Wellness Teas provides soothing relief and help you maintain a healthy balance every day.
We've blended healthy teas with environmental consciousness since 1969. By purchasing this product, you're sharing our dedication to our planet, our employees and everyone who enjoys our teas.
Ethical Trade: We're passionate about the people and places that produce our ingredients. We support fair wages and sustainable harvests in more that 35 countries.
Supplement Facts
Serving Size: 1 tea bag (Makes 8 fl. oz.)
Nutrient Amount %DV
Vitamin C (as ascorbic acid and magnesium ascorbate 35 mg 60%
Zinc (as sulfate) 7.5 mg 50%
Echinacea (Echinacea purpurea)(herb & root) 650 mg *
Eucalyptus (Eucalyptus globulus)(leaf) 120 mg *
Stevia (Stevia rebaudiana)(leaf) 25 mg *
OTHER INGREDIENTS: Peppermint, Licorice, Roasted Chicory, Natural Menthol Extract (contains Soy Lecithin), Lavender and Chinese Star Anise.
WARNING: Recommended for adults only. If you are taking prescription medication, or are pregnant or nursing, consult your health care provider prior to using this product. Persons with allergies to the Daisy Family may be sensitive to echinacea. For maximum benefit, do not use for more than 6-8 weeks consecutively. Take only when needed. Echinacea should not be used by persons with Autoimmune Diseases, AIDS, HIV, Collagen disease, Leukocytosis, Multiple Sclerosis, Systemic Lupus or Tuberculosis. Persons with Gallstones should avoid eucalyptus products. We recommend that you use not more than four (4) tea bags per day.
Naturally Caffeine-Free.
Gluten Free.
Kosher (star).
100% recycled: We print our boxes on 100% recycled paperboard (35% post-consumer material).
Blended in Boulder, CO.
Real time shoppers on site
stock running low.