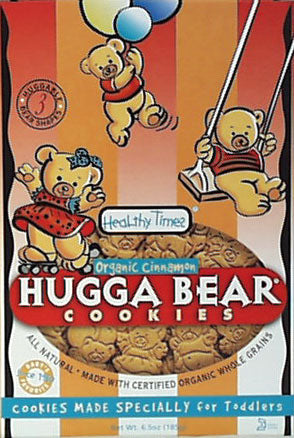 Cinnamon Cookies, Organic
---
Limited Items Selling Fast
poup with stuff in it
close
---
Cinnamon Cookies, Organic
Dear Parent, Hugga Bear Cookies are an excellent snack choice for your children.
Hugga Bear cookies are a combination of organically grown whole wheat flour, fruit juice concentrate, pure creamery butter and just the right touch of cinnamon. And, like all of Healthy Times' products for children, Hugga Bear Cookies are made without preservatives, white sugar or artificial ingredients. This means your children will enjoy a great tasting, fun snack that you can feel good about giving them.
Be sure to keep plenty of delicious Hugga Bear Cookies on hand for snack time, lunch time, family outings and special occasions. Wherever there are children, there should also be Hugga Bear Cookies.
Hugga Bear Cookies were lovingly created out of my commitment to "give children a healthy start". Thank you for sharing my commitment. ~~ Rondi
INGREDIENTS: Organic 100% Whole Wheat Pastry Flour, Organic 100% Stone Ground Whole Wheat Flour, Organic Pear, Apple or White Grape Juice Concentrate, Organic Unsulphured Molasses, Organic Cold Pressed Safflower Oil, Organic Butter, Whey Powder, Natural Flavors, Cinnamon, Aluminum Free Baking Powder.
Nutrition Facts
Serving Size: 8 cookies (1 oz)
Serving per Container: 6 1/2
Nutrient Amount % DV
Calories 107
Calories from Fat 37
Total Fat 4 g
Saturated Fat 1 g
Cholesterol 2 mg
Sodium 42 mg
Total Carbohydrate 17 g
Dietary Fiber 2 g
Sugars 2 g
Protein 2 g 0%
Vitamin A 2%
Vitamin C 4%
Calcium 1%
Iron 7%
Just a reminder: Toast, crackers, biscuits and cookies should always be eaten in an upright position, never while laying down. Please watch your child closely at mealtimes and snack times to avoid the possibility of choking on crumbs. These cookies should only be given to children who are accustomed to solid foods. We have your child's well being in mind..
Real time shoppers on site
stock running low.